Mottahedeh Green Lace Tea Cup/Saucer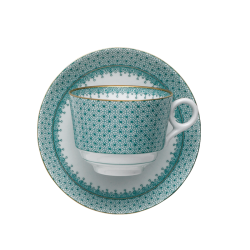 The very successful Blue Lace pattern has been interpreted once again for 5 piece place settings in Green Apple and Cornflower Blue and Green. Like Blue Lace these colorways can be mixed and matched with more decorative patterns. The delicate teardrop
border was inspired by Ch'ing Dynasty (1644 - 1911) porcelain from China and is highlighted by bands of 22 karat gold.